PRESTIGE: Where the art of living well and the art of entertaining go hand-in-hand
September 19, 2020
Summer days are synonymous with enjoyable evenings spent aboard our PRESTIGE.

 

Bays, inlets, sheltered coves… one sunset after another, and each is unique aboard our yacht.  We are lucky to enjoy both cruising with family and gathering with friends when at anchor or at port.

 

Whether in our cockpit, with the sun setting over the water, on our flybridge, for an evening with a rooftop view, or on the interior, sitting on our sofa with a view of the sea, a 360° view of the horizon has enhanced each of these privileged moments.

 

Add to all this the soft evening lights that tint the sea's surface, and we have experienced some magical moments!

 

 

 

For us, the art of living well with PRESTIGE is, above all, about the art of entertaining.

 

The flush, fully equipped galley is ideal for concocting tasty little dishes, and the comfortable saloon area creates the ideal setting for relaxing and enjoying an unforgettable aperitif.

 

Our favorite recipe for cocktail dinners?  Tahitian marinated raw fish!

 

A touch of exoticism and a hint of cool acidity to delight our guests… for a guaranteed effect and an exceptional evening aboard our PRESTIGE!
Recipe for Tahitian Marinated Raw Fish
For 4 people:
500g of tuna
2 limes
2 carrots
1 cucumber
20cl of coconut milk
1 onion
some coriander
Preparation:
1/ Cut the tuna into cubes and marinate them in the juice of 2 limes for 10 minutes.  Peel and remove the seeds from the cucumber and cut it into thin slices.  Finely grate the carrots, as well.
2/ Remove the tuna from the lime juice and mix it with the vegetables.  Add the coconut milk.  Add a tablespoon of chopped coriander.  Keep refrigerated.
Serve in small glasses with cold white rice.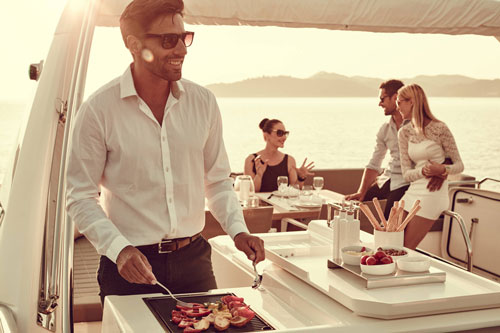 You, too, can share your favorite recipe with us!  
Each PRESTIGE yacht has been designed to offer you exceptional moments on board.
And you, what is your favorite recipe for appetizers to enjoy on board?
For further information about the PRESTIGE range, our dealer network is at your service. 
You can find the list of our PRESTIGE dealerships, here: 
link to the list of dealerships
Category :
The brand and its yachts