New Custom-Designed Outdoor and Indoor Cushion Collections by Atelier Créativa.
January 15, 2021
The New Collection of Outdoor Cushions
During the "Exclusive Days" event, held in Cannes, France, Atelier Créativa displayed its new outdoor collections aboard PRESTIGE Yachts. It was the occasion to present new fabrics that are especially designed for the marine environment:  water-repellent, stain-resistant and UV-resistant.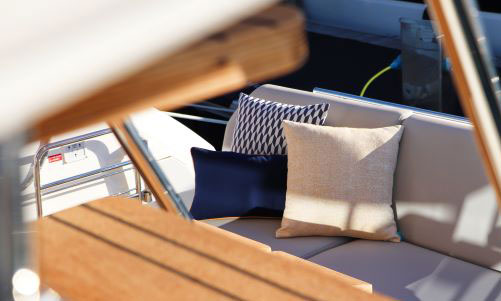 This event was also the occasion to introduce cushions in new dimensions:  the bi-tonal, bi-material and customisable small cylindrical cushions, as well as the large semi-cylindrical cushions for the sundeck, as well as very practical outdoor tablecloths.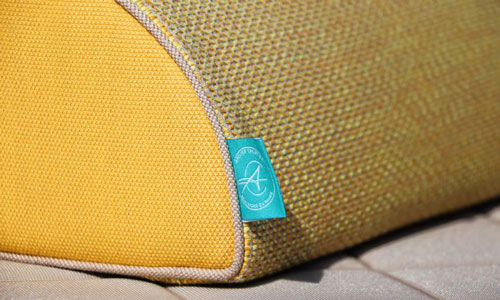 Atelier Créativa offers various combinations, by collection, especially designed to suit the model of your yacht, with its upholstery and furniture.
You can also compose your own exterior decoration by selecting fabrics, shapes and finishes.
Each creation is made to order at Atelier Créativa, located near Lyon, France.
Atelier Créativa is delighted to assist you with your décor projects!
Learn more about the outdoor collection
Customise Your Interior, with the New Interior Collection!
Following on the success of the outdoor cushions, enabling you to customise and easily renew the atmosphere aboard your yacht, this year, Agnieszka Clavier is offering you new collections of cushions to decorate your interior.
The fabrics are carefully selected, the majority woven in France by businesses classified as belonging to the "Patrimoine Vivant," renowned for their excellence in traditional fields in France.
You will appreciate the quality of the workmanship, the elegant colour harmonies, all the possible choices for customisation, and of course, the attentive support in order to fully meet your expectations.
You can also create an entirely customised interior to suit your tastes.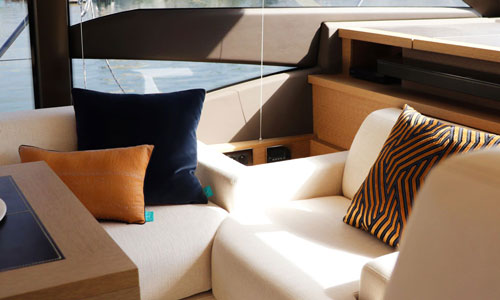 DISCOVER THE NEW INDOOR COLLECTION
And don't forget the details that make all the difference:  robes, bath linens, bed linens, bedspreads, table linens... all with options for customisable finishing details and embroidery (name of the yacht, logo, initials, first names, etc.).
Take advantage of the winter season and prepare now for your next outings at sea!
Category :
The brand and its yachts