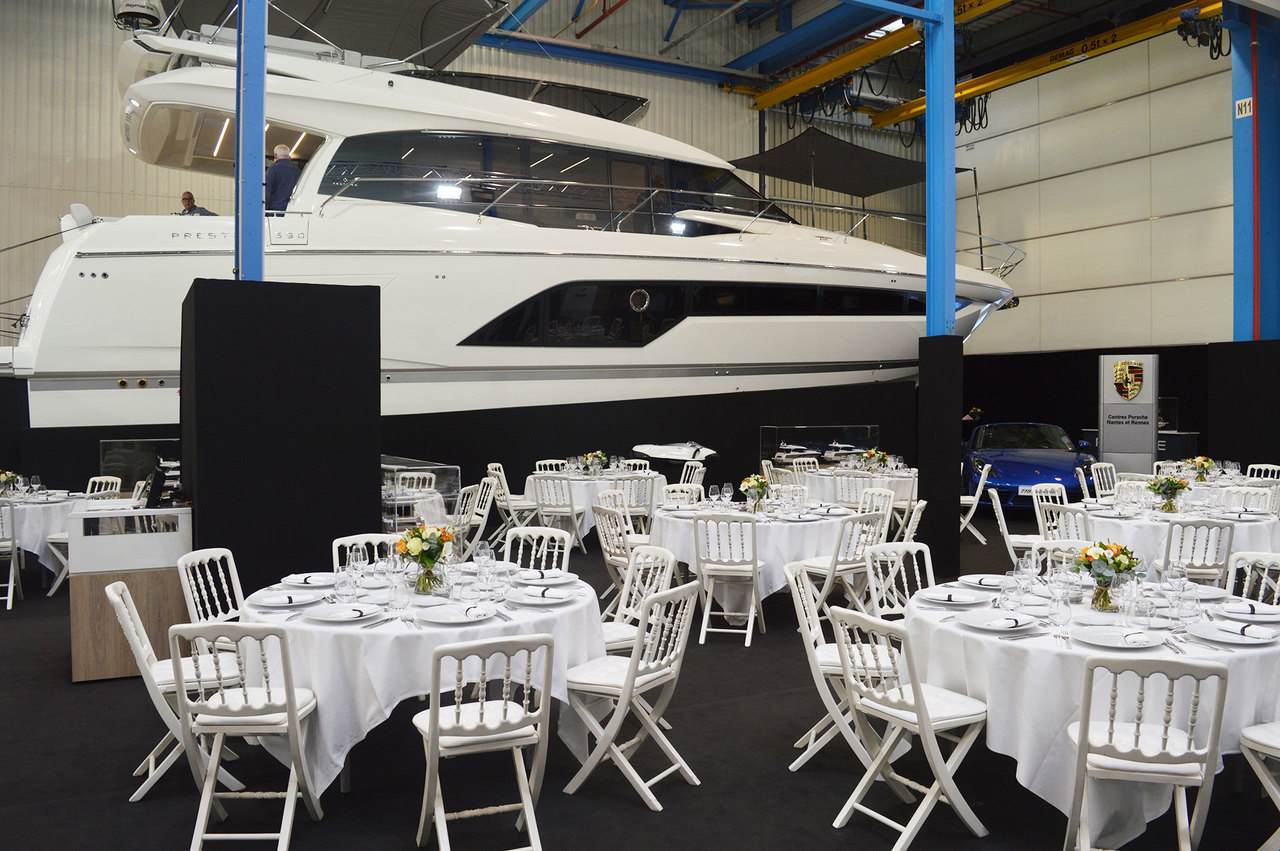 PRESTIGE Exclusive Days: a moment for sharing and exchange in an exclusive setting 
The 2019 PRESTIGE Exclusive Days will take place on November 8th, 9th, 10th and 11th in Les Herbiers, France, where the PRESTIGE yachts shipyard is located. Each year, customers of the PRESTIGE brand are invited to visit the shipyard in an exceptional and exclusive setting.
For the occasion of the PRESTIGE Exclusive Days, Jean-Paul CHAPELEAU, Executive Director of JEANNEAU-PRESTIGE, Erwin BAMPS, Executive Director of PRESTIGE and their crew will welcome PRESTIGE customers for an exclusive visit to the shipyard and a unique moment to simply share and exchange together.
Programme for PRESTIGE Exclusive Days, NOVEMBER 8th–11th, 2019
Innovation by PRESTIGE
Over the course of these Exclusive Days, customers will have the opportunity to visit the PRESTIGE shipyard and workshops to learn about the latest innovations of the range. This year, the mock-up of the new PRESTIGE X70 will be exhibited in Commequiers.
This is also the occasion to (re)discover the following yachts on display:
FLYBRIDGE LINE
S-line 
Exchange with Key Players in the thePRESTIGE Brand
Over these four days, guests of the brand will have the opportunity to meet and exchange with PRESTIGE product developers, yacht designers and partners over a cocktail and a luncheon on the house.
PRESTIGE, a brand that listens to its customers
This is how, through our internal key players and designers, we reveal the world of PRESTIGE.
PRESTIGE is also a philosophy, that of a brand that is close to its customers. Each customer is unique and benefits from particular attention.
Contact your nearest dealership quickly to participate!
Revisit the 2018 PRESTIGE Exclusive Days
View the video:  "2018 PRESTIGE Exclusive Days"