Introduction
感受志气昂扬的大海。
F-Line 提供具有独特布局的游艇。精巧优良的材料赋予船舱更宽敞雅致的环境,
大量采纳自然光线,使空间向船外延展。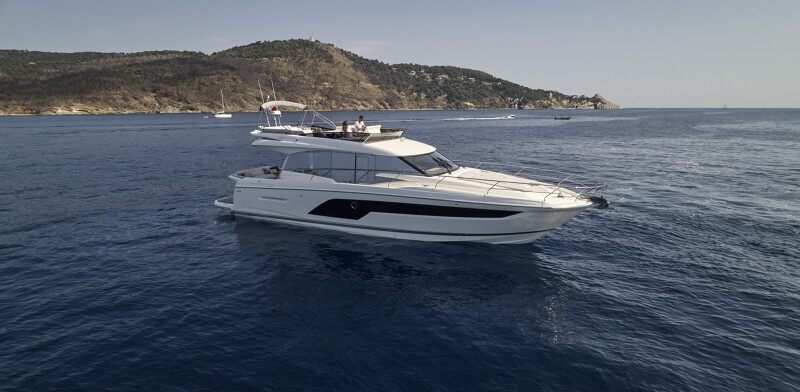 THE NEW F-LINE GENERATION
DYNAMIC EXTERIOR DESIGN
Inspired by moving water, the powerful, elegant lines of this new hull incorporate large windows, bathing living spaces in natural light. Surfaces and curves have been meticulously designed to create soft lines evoking the movement of water.
THE NEW F-LINE GENERATION
SAME PERSONALITY, NEW INTERPRETATION
The interior layout benefits from evolutions to enhance the warmth of life on board and privacy in the cabins. Positioned forward, the owner's suite offers an exceptional volume of interior living space, magnified by natural light streaming through windows in the hull. The new galley features sea views and an even more inviting space, and together with the cockpit, owing to its large sliding glass door, this is the epicenter of life on board. At nightfall, ceilings lit by recessed lighting create a soft, soothing atmosphere.
THE NEW F-LINE GENERATION
Cutting-Edge Technology on Board
The new F-Line features a concentration of technology and innovation on board, offering you the freedom and peace of mind to fully enjoy cruising and relaxing at anchor.
THE NEW F-LINE GENERATION
Refined Layout, Fit and Finish
The F-Line is inspired by the colors and reflections of the French Riviera. The streamlined design instantly reveals delicate details, fine materials, and rich finishes. A perfect combination of comfort and contemporary design inspires the feeling of being entirely at home. New materials make their appearance: natural stone, curved wood, and even wicker... The new generation F-Line also offers recycled materials with sustainable, environmentally responsible components.